Employment Opportunities
Ocean Galleries does not currently have any positions available. As new opportunities become available, they will listed here.
Thank you for your interest in Ocean Galleries.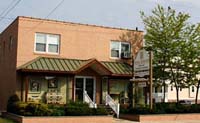 As opportunities (full-time, part-time and internships) within the gallery and shop become available they will be posted here. Feel free to check back from time to time to see what is available.
Candidates interested in submitting a resume should forward it to:
Ocean Galleries
297 22nd Street
Avalon, NJ 08202
To contact us via e-mail, please use our contact form located here.
No phone calls please.