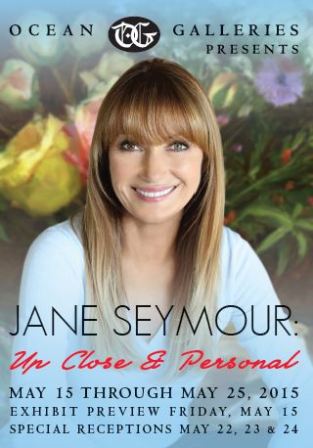 "Jane Seymour: Up Close and Personal"
The exquisitely talented actress and artist, Jane Seymour, visits Ocean Galleries for a Memorial Day exhibition, bringing an extraordinary collection of her latest oil paintings and watercolors. Often described as a California colorist, Ms. Seymour believes that her art reflects the essence of who she is. Along with the gorgeous fine artwork she has painted and sculpted, her love of art and color led her into the world of design with a variety of projects, including developing her own signature line of picture frame moulding which will be featured at the show.



Please join us for our preview receptions:

Friday, May 15th from 7pm to 10pm

Saturday, May 16th from 7pm to 10pm

Sunday, May 17th from 1pm to 4pm



Join us for our receptions with the artist Memorial Day Weekend:

Friday, May 22nd from 7pm to 10pm

Saturday, May 23rd from 7pm to 10pm

Sunday, May 24th from 1pm to 4pm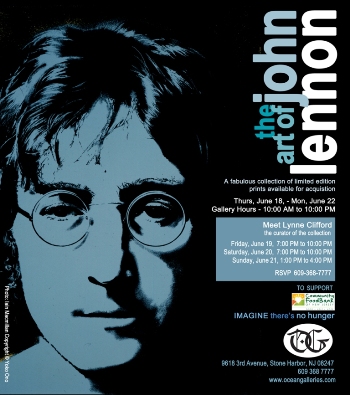 "The Artwork of John Lennon"
Ocean Galleries is thrilled to host an exceptional exhibition featuring the artwork of John Lennon. An unparalleled collection, ?The Art of John Lennon? will be on exhibit and available for acquisition from Thursday, June 18 through Monday, June 22, 2015, with Ocean Galleries open from 10:00 AM through 10:00 PM daily.



Special receptions with the Collection Curator, Lynne Clifford, will take place:

Friday, June 19th from 7:00 PM to 10:00 PM

Saturday, June 20th from 7:00 PM to 10:00 PM

Sunday, June 21st From 1:00 PM to 4:00 PM



Ms. Clifford, an authority on the artwork of John Lennon, will be in the gallery and available to the public; speaking on the exhibited works and providing insight into the history and stories behind the artwork.



John Lennon?s artwork celebrates human love and communication ? two themes at the heart of his contribution to the art of the twentieth century.



All events are complimentary and open to the public, with all artwork available for acquisition. Ms. Yoko Ono Lennon, who created the program, had the specific intent of helping local non-profit organizations in each city the exhibit visits. As such, Ocean Galleries will be asking guests to make a $5 or more donation to the Community FoodBank of New Jersey.