The United States Olympic Committee recently threw a huge 100-day out celebration in New York City for the upcoming Olympic Games in Rio Brazil. First Lady Michelle Obama and The Band Perry joined Today Show anchors Matt Lauer and Natalie Morales for this stop on the Road To Rio Tour presented by Liberty Mutual Insurance. At the same time, Charles Fazzino released his new officially licensed art collection for Rio…a limited edition 3D print, an embellished limited edition flat print, and a 3D Collectors Pin. The entire Fazzino Summer Olympic Games Art Collection will be on display at the USA House in Rio during the Games.
The collectors pins are the latest in a series of Charles Fazzino Olympic collectibles that began in 2004 with the Athens Olympic Games. The three-layered pin is derived from the limited edition artwork and captures the beauty, excitement, and majesty of Rio.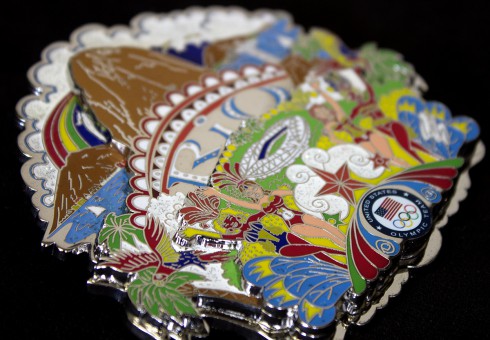 Fazzino is no stranger to commemorating important events with his colorful and detailed artwork. He has painted 16 Super Bowls for the National Football League, 12 All-Star Games for Major League Baseball, five Daytime Emmy Award Ceremonies, two FIFA World Cup Tournaments, the Grammy Awards, and was the official artist for the 2009 and 2010 President's Council on Physical Fitness and The President's Challenge.
Most famous for his 3-D renderings of New York and countless other cities, Fazzino has also created masterfully vibrant and detailed tributes to such popular icons as the New York Yankees, Marilyn Monroe, Elvis Presley, Alfred Hitchcock, and the characters of Walt Disney.
Charles Fazzino will visit Stone Harbor for the first time this Memorial Day weekend.  The "Charles Fazzino: The Master of 3D Pop Art" exhibition includes more than 50 pieces of artwork and is open to the public daily from Friday, May 27 through Monday, May 30, 2016, with all artwork on display available for acquisition.  Charles Fazzino will be at the exhibition to greet guests and sign purchased artwork during receptions from 7:00 PM until 10:00 PM on Saturday, May 28 and from 1:00 PM until 3:00 PM and 7:00 PM until 10:00 PM on Sunday, May 29. Gallery hours are 10:00 AM until 10:00 PM Friday through Sunday, and 10:00 AM until 5:00 PM on Memorial Day.