Gallery of Events 2005
If you would like to be added to our mailing list to ensure that you are notified of upcoming shows and events at Ocean Galleries, please contact us via e-mail using our contact form.
Peter Max's "The Colors of Resorts" installed at Resorts Atlantic City, March 8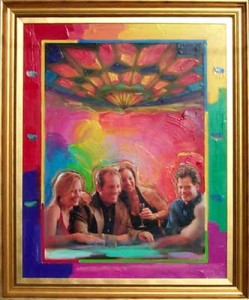 On Tuesday, March 8, Josh and Kim Miller, owners of Ocean Galleries – along with long time gallery employee Bob Smith – installed Peter Max's original painting titled, "The Colors of Resorts" in the entrance of the Camelot Restaurant. Camelot is located on the Dining Level of Resorts Atlantic City.
"The Colors of Resorts" highlights the signature art deco flair of Resorts Casino in a style that is quintessential Peter Max. He brings the viewer right into the excitement of the casino.
The 48″ x 60″ original acrylic on canvas was commissioned by Resorts Atlantic City through Ocean Galleries of Avalon and Stone Harbor, New Jersey. Ocean Galleries used their expertise in framing to finish the canvas with a gorgeous combination of gold frames that perfectly compliment Max's bold brush strokes of strong color and his vibrant style.
Master Impressionists Exhibition
Original etchings, lithographs, pastels and oil paintings
Friday, May 27 through Sunday, May 29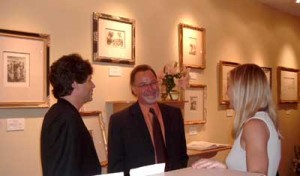 For the second consecutive summer, Ocean Galleries offered a rare opportunity for people to view and collect original works by master artists. Featured was the artwork of Pierre-Auguste Renoir, Camille Pissarro and descendants Paul-émile Pissaro and H. Claude Pissarro, and works by Edouard Manet, Paul Cezanné, Mary Cassatt, James Whistler and Paul Signac.
Peter Max
Colors From Above
Friday, July 1 through Sunday July 3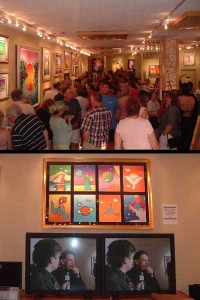 For the fifth consecutive year, Max returned to South Jersey, this year with his "Colors From Above" exhibition, which featured over 100 pieces of is art, including original paintings, drawings, and limited-edition prints. The subject matter of the work ranged from the well known "Cosmic" images to his famous iconic paintings, such as the "Statue of Liberty," and "Flag with Heart."
Two television monitors display a Peter Max video for attendees of the exhibition. (top)
The gallery filled to capacity with people eager to view the artwork on display and meet with Peter Max. (bottom)
Tim Rogerson
Cosmopolitan Pop
Friday, July 22 through Sunday, July 24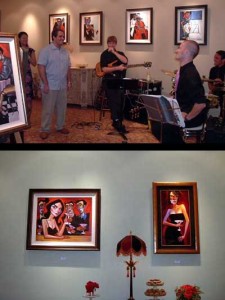 Tim Rogerson, a North Carolina native, concentrates on capturing people in social setting in his brightly colored oil paintings. Inspired by the works of Edgar Degas and Malcolm Lipke, Rogerson casts his artwork with a very definite energy and passion. A graduate of the prestigious Ringling School of Art and Design in Sarasota, Florida, Tim Rogerson brought his spectacular collection of his works to South Jersey for the first time.
Tim Rogerson chats with the jazz trio performing during the gallery exhibition. (Right)
Howard Behrens and Simon Bull
Friday, August 5 through Sunday, August 7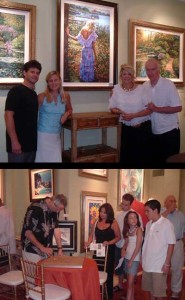 Howard Behrens, America's foremost palette knife artist, returned to Ocean Galleries with his collection of paintings inspired by his travels to such places as Italy, France, Bermuda, Greece and the coastal regions of the United States. At this years show, Behrens debuted the limited-edition "My Beloved – By the Lake," from a series that he is painting of his wife Judi.
Gallery owners Josh & Kim Miller pose with Howard Behrens and his wife Judi. (top)
Simon Bull signs a personalized dedication for an art collector during the exhibition. (bottom)