Gallery of Events 2014
Alexandre Renoir: Broader Horizons
Alexandre Renoir, the great grandson of Pierre-Auguste Renoir, was the featured artist over Memorial Day weekend as Ocean Galleries hosted a collection of his most recent paintings. "Renoir: Broader Horizons" opened on Friday, May 23, 2014 and ran through Sunday, May 25, 2014 at the Stone Harbor location of Ocean Galleries. During the three-day exhibition, guests enjoyed intimate receptions with Alexandre Renoir and were able to witness the Master at work, when l he painted during the receptions.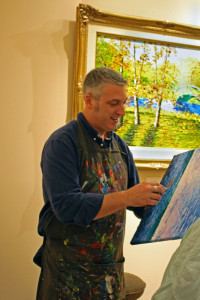 Alexandre Renoir's interest in art started at a young age, having grown up immersed in the Renoir family and the magnificent Impressionism artwork of his great-grandfather, Pierre-Auguste Renoir. His great-grandfather has been largely credited for developing the Impressionistic style, which has since become one of the more popular and beloved art forms.
Alexandre was artistically trained at various arts-oriented schools, including the Virginia Park School for the Artistically Gifted and the Victoria School for the Arts and Performance. In addition to his formal education, he also attended classes at the Alberta Museum on Aboriginal Arts and Crafts, garnering experience in sculpture, pottery, woodworking, stone carving, commercial art, photography, and painting.
Although immersed in the arts and culture of his environment, Alexandre remained primarily an onlooker until his drawing abilities were tapped by his brother during a visit to La Jolla, CA. Alexandre began to draw with charcoal and the results were impressive. From the first sheet, Alexandre could naturally draw in various styles; his charcoal drawings are created with a sense of ease and grace that is reminiscent of the beauty and charm of the Impressionist period.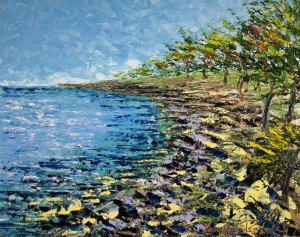 The Art of Ringo Starr
As Ringo Starr hit the road during the summer with his 14th All Starr Band, a collection of his art, composed by Starr electronically, made companion stops at galleries in three select cities. Ocean Galleries was chosen for one of the gallery shows in conjunction with the Atlantic City performance.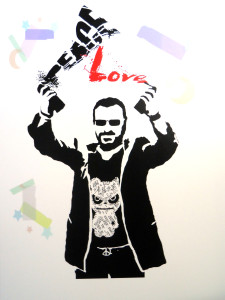 Ringo began composing art on his computer in the late 90s while on tour. He has created art over the past few years for Knot For Violence, Imagine World Peace, WaterAid, and Timberland boots, as well as an original design for the Hard Rock Signature Series T-Shirt.
Ringo's new artwork will feature "Self Portraits" from his early days to now, as well as a new series of Peace Signs, all depicted in his bright and colorful palette. As always, Ringo's proceeds will benefit the Lotus US Foundation Charity, which funds, supports, participates in and promotes charitable projects aimed at advancing social welfare in diverse areas.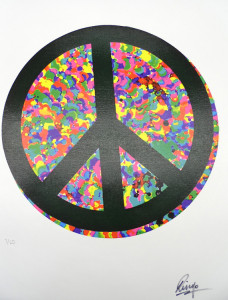 Ocean Galleries hosted the exhibition featuring Ringo's artwork in the Stone Harbor gallery location beginning Friday, June 13 through Sunday, June 15, 2014. The collection was then be brought to Caesars Atlantic City (Tiberius Room), where it wasdisplayed by Ocean Galleries on Friday, June 20 and Saturday, June 21. Anyone who acquired Ringo's artwork throughout the exhibition run had the opportunity to meet and have a photo taken with the legendary artist at a private reception  prior to the All Starr Band's performance at Caesars.

Salvador Dalí: The Argillet Collection
The Salvador Dalí exhibition over the Fourth of July weekend offered a rare opportunity to meet Madame Christine Argillet, daughter of Dalí's legendary publisher and confidante Pierre Argillet. The collection included collaborative works of original etchings, Aubusson tapestries, and original watercolors.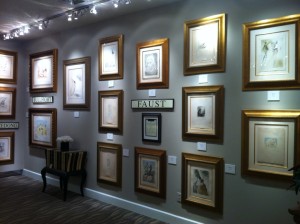 Salvador Dalí's publisher, Pierre Argillet (1910-2001) and Dalí enjoyed a collaboration and a friendship that spanned five decades; and produced what art historians have termed "the finest bodies of the Master's Art". Together, Argillet and Dalí created remarkable editions of original prints, lived the life of a committed "Surrealist," and developed images that are highly-valued and prized by collect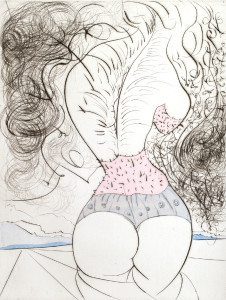 ors today.
This collection, made available by the Argillet Estate, offers an opportunity to own a prominent piece of Dalí's legacy. The exquisite exhibition includes works from Dalí's Suites, including "Mythologie", "Les Hippies", "Goethe's Faust", and the incomparable "Poemes Secrets d'Apollinaire". Madame Argillet has also graciously included the rare titles, "Etchings" and "Watercolors" from 1934 to the late 1960s.
Wine and Romance – the Evocative Images of Viktor Shvaiko and Thomas Stiltz
Two exceptional artists came together for a Labor Day exhibition at Ocean Galleries that is sure to please.
Born in Altai, Viktor Shvaiko grew up surrounded by the beauty of the wilderness. His natural inclination for fine arts and his strong urge to share his vision of nature drove him to find a way into the Novoaltaisk Artistic School, one of the two best schools for the arts in the former Soviet Union, where he acquired the skills of a true artist. Years later, his travels brought him to New York City with little money and less English. Viktor began selling his work and developed his penchant for painting the little cafes and other intimate places that we see in his work today and that have become his trademark. His enticing mix of beauty and mystery has drawn the interest and admiration of collectors from around the world.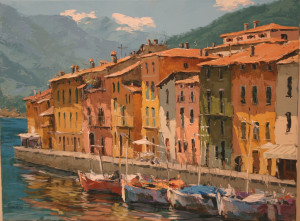 Thomas Stiltz received a B.A. in Fine Art and M.A. in Photography from the University of Delaware. After a highly successful career in photography and graphic design, Stiltz began his career as a painter in the mid-1990s. Stiltz was drawn initially to the still life genre, with early influences such as Cezanne, Vermeer, and the Spanish still life painters of the 1600s. He later began incorporating his skills as a photographer, exacting manipulation of materials and creating a photographic visual language through his art. Stiltz uses an old world technique of applying many layers of glazed oil paint, which gives color intensity and depth. His optimistic art creates and invents wonderful visions that strive to express the pleasures of sight, taste, sound, smell, and touch.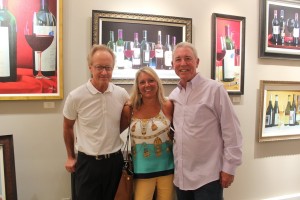 Guest had the chance to meet Shvaiko and Stiltz during receptions throughout the weekend.