Acclaimed artist returns to Stone Harbor with new collection of paintings
Josef Kote returns to Ocean Galleries this Memorial Day weekend with an all new collection of paintings, including many site-specific pieces created with the Jersey Shore collectors in mind
''I create and every time my motivation is finding the Light'' – Josef.Kote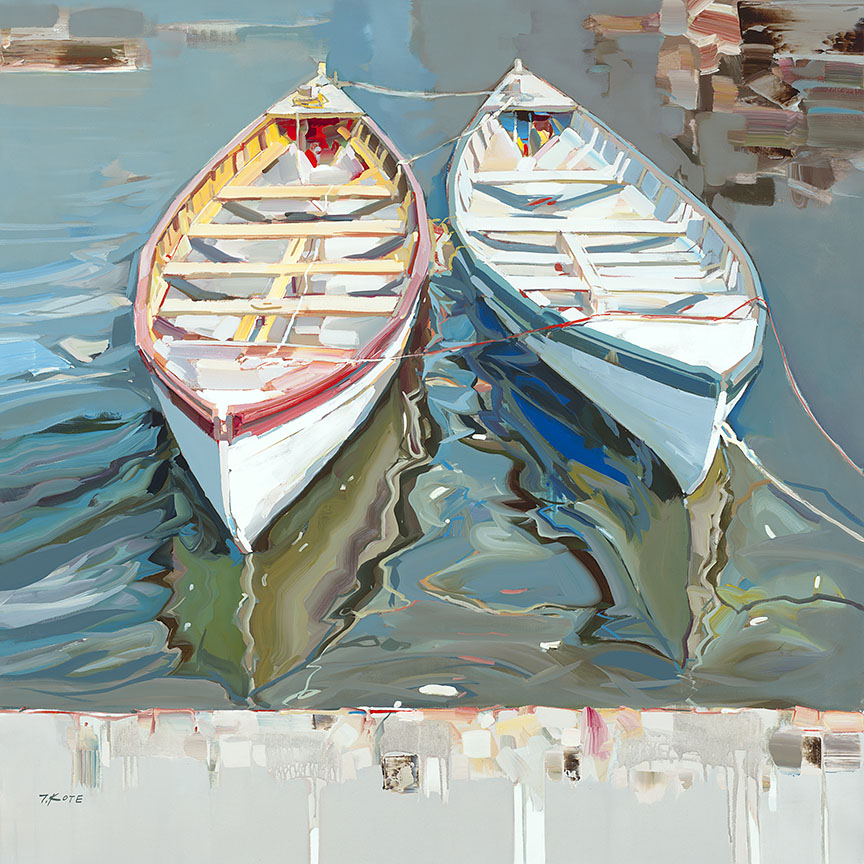 Kote has rapidly drawn the attention of the art world due to his ability to look at his subject matter from a very unique point; it is the artistic style that sets Kote a part from a sea of artists. If the evolution of Kote's art could be defined by one thing, it would undoubtedly be the concept of place. A restless spirit, his life has taken him all around the world, not only to various cities, but to different countries and regions.
A landscape painter at heart, although drawn to many other facets of life itself that undoubtedly appear in his work, it is as if his changes of scenery perfectly coincide with his artistic practice. As soon as he begins to feel he has taken all he can from one location, it is on to another place, another source of inspiration. In fact, one of his primary goals as an artist is, "the need to push the boundaries of [his] previous work, explore new areas, and experiment with colors and concepts by looking beyond the ordinary paths. It's really about taking a risk while painting so that [he] can create something that [he] hadn't fathomed before." In each location, during each day, colors and light shift and dance in their own unique ways, defining these spaces, and subsequently, Kote's paintings.
''I've always wanted to create a style that was truly reflective of me; A style that allows me to express my inner vision'' – Josef.Kote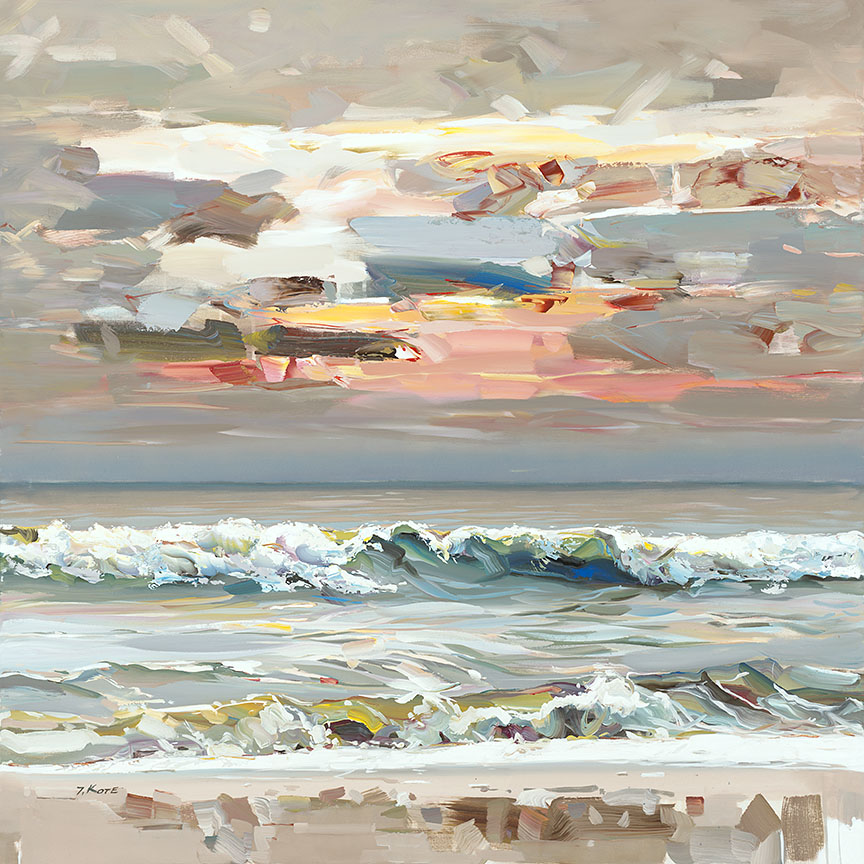 Those more unfamiliar with art may largely think of its styles as distinctly broken up – realism versus abstraction, modernism versus classicalism, and so on ad infitium. While this is never wholly true, Kote is uniquely adept at blending each of these seemingly disparate elements into one singular painting, allowing the strengths of each to complement one another. With a training rooted in the classical tradition of the Old Masters, Kote was keen to break free from their rigidity, adding his own personal flourishes to his paintings that bring them into the modern world.
While each painting is decidedly different from the next, they each begin in much the same way. Gathering inspiration from nature and the things around him, he will often make sketches en plein air to quickly capture what around him has taken hold of his imagination. It is therefore logical that place would be so important to a painter like Kote, for each minute element of the surrounding world can provide bountiful arrays of inspiration. That is not to say that each painting happens quickly. While undoubtedly an incredibly prolific artist, he will sometimes think on a subject for months at a time before finally understanding the direction he wants to move his subject towards. As he says:
 "A good subject matter for me is anything that haunts my mind and lingers from the moment that I see it. When something stays with me despite the distractions of ordinary life, I know that it is powerful." – Josef Kote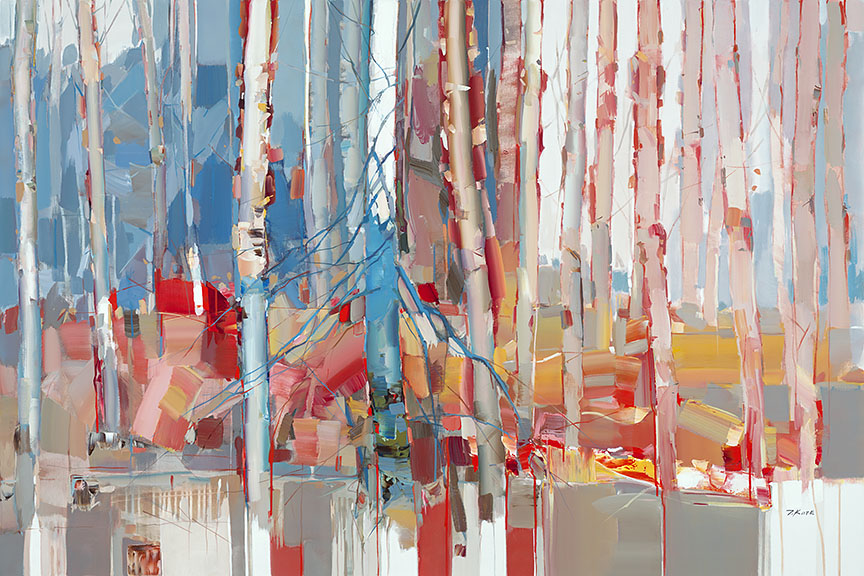 Most paintings will begin with some sort of sketch, with the degree of compositional exactitude dependent upon each subject at hand. After working through this initial design, and determining the proper size and layout, Kote will utilize a few quick strokes to begin to bring the composition to life. It is at this stage that values and colors begin to take hold, grounding the rest of the painting. At this point, the painting process becomes "exciting and unpredictable," for no matter how thought out it may be, the painting is at the mercy of Kote's emotions as he works through the canvas.
Once this initial groundwork is completed, Kote likes to start with a singular focal point, usually the primary subject of his work. This is, naturally, often the most "finished" part of the work, the part that is most established in realism. The composition is then built outwards from this focal point, and finally tied together with expressive flourishes of brushstrokes and more exacting details. These portions blend effortlessly together, in part through his signature "dripping effect," in which he lets rivulets of color drip on to the canvas and freely flow into each other, creating a chance dance between two colors, blending two elements together.
''When I chose what to paint a lot has to do with the light. I spent time to observe the light, how it hits the object and I try to feel It.'' – Josef.Kote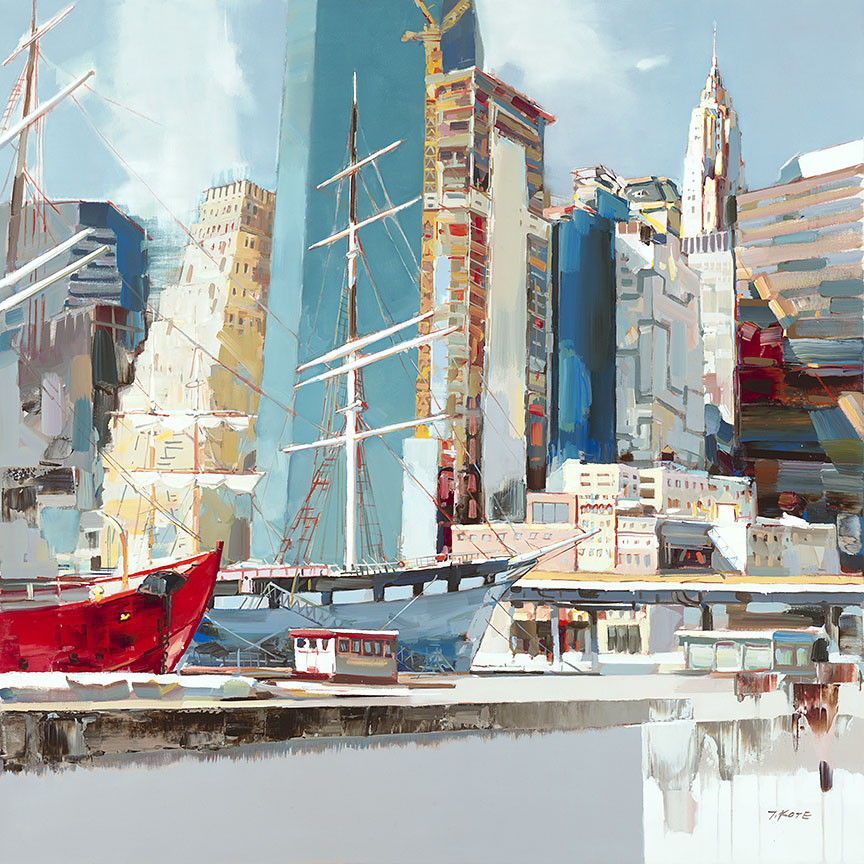 Beyond this, Kote is well known for his implementation of both brush and palette knife, which allows for a range of different textures, and lends itself well to his desire to create something both expressive and impressionistic. The palette knife is most commonly used in his paintings to create the sweeping strokes of bold, pulsating color that moves throughout each and every one of his canvases. Yet equally important are the areas of the composition Kote chooses not to paint, or at least, to not paint so heavily. These monochromatic areas are simple, almost devoid of detail, and in their sparseness remind their viewers of the world beyond the scene at hand. By creating this moment of simplicity, Kote invokes a quiet stillness that echoes throughout the entirety of his painting. As a result, each of his works, but especially his landscapes, feels strangely familiar, like a memory you can't quite place drifting in and out of focus. It is as if time is irrelevant in these scenes, existing simultaneously in the past and future.
Guests will have the opportunity to meet Josef Kote at gallery receptions taking place from 7:00 PM until 10:00 PM on Saturday, May 26 and Sunday, May 27, 2018.  The exhibition, "Josef Kote – Harmony in White," opens on Friday, May 25 and runs through Monday, May 28, with all artwork available for acquisition. Exhibit hours are 10:00 AM to 10:00 PM Friday through Sunday and 10:00 AM to 5:00 PM on Monday.
The exhibition is FREE and open to the public with all artwork available for acquisition.  For more information, call 609-368-7777 or register below.
Click here to view additional Josef Kote artwork.
Josef Kote In Stone Harbor Over Memorial Day Weekend