This weekend, Ocean Galleries welcomes Victoria Montesinos to Stone Harbor for her first exclusive art exhibition in New Jersey. The talented artist, best known for her exquisite paintings of flowers, uses a unique technique of layering to create artwork that is strikingly beautiful.
"Victoria Montesinos: Passion of the Flower" will be on display Friday, July 31 through Sunday, August 2, 2015 from 10:00 AM until 10:00 PM at Ocean Galleries (9618 Third Avenue, Stone Harbor, NJ). Ms. Montesinos will be on hand to meet collectors at receptions from 7:00 PM until 10:00 PM on Friday, July 31 and Saturday, August 1, and from 1:00 PM until 4:00 PM on Sunday, August 2. The exhibition and the receptions are free and open to the public, with all artwork available for acquisition.
In conjunction with her New Jersey exhibit, Ms. Montesinos has donated "Misty Sunset" to the Helen L. Diller Vacation Home for Blind Children in Avalon, NJ. The gorgeous 36″ x 45″ print will be framed by Ocean Galleries and donated to the organization's annual "Barefoot Ball" fundraiser auction on September 12.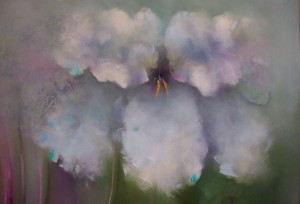 Born in Mexico City, Victoria studied art with master Spanish painter Jose Bardasano, where she learned the rigorous veladuras technique of painstakingly building up texture and depth through many fine layers of paint. By introducing marble, sand, and stone as textural elements, as well as stenciling techniques, Montesinos creates a subtle topography for her floral universe. Because this process is so labor intensive and time consuming, Montesinos will spend two to three weeks absorbed in a single canvas.
In addition to her exquisite floral artwork, the collection will include several artistic nude paintings, many of which also incorporate some type of floral element.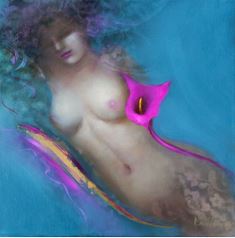 The show is FREE and open to the public with all artwork available for acquisition. For more information, call 609-368-7777 or visit www.oceangalleries.com