We can't wait for our next guest artist this summer, Autumn de Forest, who will be at the Stone Harbor, NJ location of Ocean Galleries from Friday, August 5 through Sunday, August 7, 2016.  Painting since the age of five, the 14-year-old has accomplished more in just a few short years than most of us will accomplish in a lifetime.
Last fall, Autumn was recognized for using her talent to help others when she received the International Giuseppe Sciacca Award for Painting and Art.  The prestigious award was presented at the Vatican during a ceremony in Rome.
Established in 2001 by the International Association of Culture and Voluntary Work 'Uomo e Società' ['Man and Society'], the award recognizes individuals under 35-years-old who show talent in the fields of knowledge and art, are role models in their communities, and are a moral and educational example in society's development.
Check out this short video of her visit to the Vatican where she was honored with the prestigious award and had the opportunity to present her painting to Pope Francis. At 14-years-old, she is truly amazing!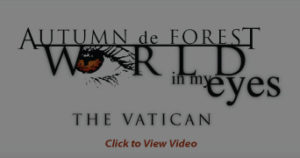 Click image above to view video of Autumn de Forest being presented the Giuseppe Sciacca Award at the Vatican in Rome.
 "The Giuseppe Sciacca Award is a life-changing honor for me.  I have always felt it is important to help others, but I never imagined I would be noticed for that – I thought it was the right thing to do," Autumn said.
In conjunction with her visit to Rome, Autumn created artwork with religious iconography that she presented during the ceremony.  The artwork was displayed at the Gallery Coronari in Rome and select pieces will be available for acquisition during her Stone Harbor, NJ exhibition.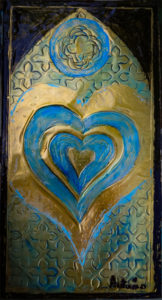 The "Autumn de Forest – The Journey Continues" exhibit opens at Ocean Galleries on Friday, August 5 and runs through Sunday, August 7, 2016 from 10:00 AM to 10:00 PM daily, with all artwork available for acquisition.  Meet Autumn de Forest at special gallery receptions from 6:00 PM until 10:00 PM on Friday, August 5 and Saturday, August 6, and from 1:00 PM until 4:00 PM on Sunday, August 7.
Click here to preview more of Autumn de Forest's artwork.