Ocean Galleries is delighted to welcome Canadian-Lebonese artist Samir Sammoun to the Stone Harbor location (9618 Third Avenue) on Thursday, July 21, 2016 for his first exhibition at the Jersey Shore.  Gallery goers will be treated to a collection of his exquisite oil paintings during a gallery reception taking place from 7:00 PM until 10:00 PM on Thursday, July 21.
Samir Sammoun was born in 1952 in a quaint Lebanese village perched atop the Chouf Mountain, 40 km south of Beirut. To this day, the artist vividly recalls the colourful Mediterranean landscape of his childhood. At age 21, Samir immigrated to Canada where he obtained degrees in electronic engineering and telecommunications. Since graduation, he has pursued his professional career as well as his passion, painting.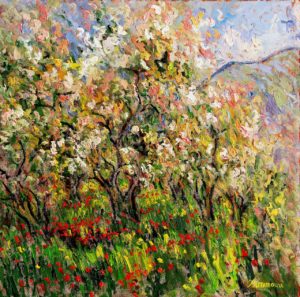 Chris Klimantiris, who began representing Samir Sammoun in 1996, provides an eloquent reaction to the artists work. "The first time that I saw Samirs paintings, I was fascinated by his refined technique. I felt like a time traveler, transported to turn-of-the-century Paris and the Impressionists."
Samir Sammoun's originality and unique style have caught the attention of viewers, collectors and art lovers in Canada and the United States. When he first showed his work at ArtExpo in New York in 1996, the reaction was immediate and positive. Robert L. Mooney, Director of the Galleries J.R. Mooney, San Antonio, Texas wrote the following: "J.R. Mooney Galleries of Fine Art has had the pleasure of representing the artwork of Samir Sammoun to our collectors in the southwestern U.S. for the last two years. The fresh colorful impressionistic renditions presented in his artwork have been received with unprecedented enthusiasm… Samir is a fresh and exciting talent depicting the landscapes he sees in rich colours with his own wonderfully unique impressionistic style."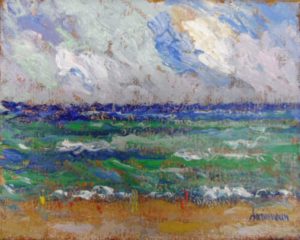 While the subject matter for his Impressionistic artwork varies, many of the pieces at the Ocean Galleries exhibit are beach scenes which are sure to be popular with area residents and visitors.  "We have a ton of requests for seashore-themed paintings, particular this time of year with so many visitors in our lovely seaside community of Stone Harbor.  Taking home one of Samir's paintings is a great way to help capture the magic and memories of summer vacation!"
The Samir Sammoun collection will be on display through Sunday, July 24.  For more information, call 609.368.7777 or stop by Ocean Galleries.
Click here to view additional artwork by Samir Sammoun.
# # #