Meet the 16-year-old artist who has been recognized internationally for her amazing artwork and generous charitable contributions
WHO:             Autumn de Forest – The 16-year-old artist has been professionally painting since she was five-years-old, has been called a child prodigy, artistic genius, and an outstanding role model, and has garnered accolades across the globe for her artwork and philanthropic passion.                             
WHAT:           "Autumn de Forest – The Power of She" – Autumn has created a new collection of paintings, including many fun-loving sea creature images, a variety of floral-themed art, as well as imagery inspired by her studies of dreams and psychology.
WHEN:           Meet the Artist – Gallery Receptions
Autumn will be at intimate gallery receptions to meet guests and sign purchased artwork. The exhibit runs daily 10:00 AM to 10:00 PM Friday, August 31 through Sunday, September 2, and 10:00 AM to 5:00 PM on Monday, September 3.
Friday, August 31, 2018                      6:00 PM to 10:00 PM
Saturday, September 1, 2018             6:00 PM to 10:00 PM
Sunday, September 2, 2018               6:00 PM to 10:00 PM
WHERE:         Ocean Galleries (9618 Third Ave., Stone Harbor, NJ 08247/Tel: 609.368.7777)
Ocean Galleries is thrilled to welcome the amazing young artist, Autumn de Forest, to Stone Harbor over Labor Day weekend. Autumn's extraordinary path has been distinguished by many achievements, including being the youngest artist in history to have a solo exhibition at a major American museum and being honored at the Vatican for her profound influence on arts and culture. Her works are collected around the world, and she has been confirmed as a "profound artistic prodigy." Equal to her creative endeavors is Autumn's commitment to humanitarian causes and giving back.
Since her debut, Autumn has explored a variety of styles and themes, sometimes using canvases larger than herself. As a self-taught artist, de Forest has developed multiple techniques in addition to more traditional painting methods. Her innovative "pull painting" method involves dragging paint across a canvas with a wire, while her "wind painting" method makes use of an air compressor and diluted acrylic paint.
In conjunction with her exhibit, Autumn will make a special stop at St. Lucy Day School for Children with Visual Impairments (Philadelphia, PA) for a painting session with students who have attended summer camp at Helen L. Diller Vacation Home for Blind Children (Avalon, NJ).  Together with the children, Autumn will be painting an oversized canvas which will be auctioned to raise funds for the Diller Home. The private event on Wednesday, September 5 at 12:00 PM is open to media for coverage.
The Ocean Galleries exhibition is FREE and open to the public with all artwork available for acquisition.
For more information on "The Power of She" exhibition, visit Autumn de Forest to Exhibit in Stone Harbor, NJ Over Labor Day Weekend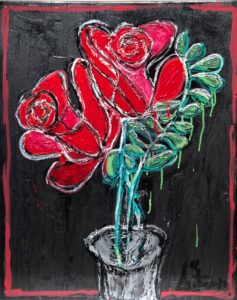 DE FOREST, Autumn
Dueling Roses
Acrylic on Panel
29 x 24 inches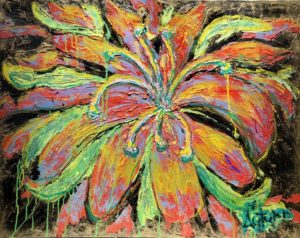 DE FOREST, Autumn
Autumn Flower
Acrylic on Chart
30 x 38 inches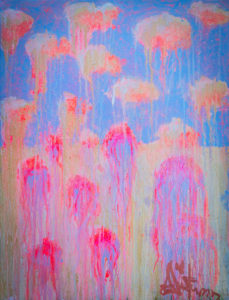 DE FOREST, Autumn
Clouds and Nettles
Acrylic on Canvas
30 x 24 inches

DE FOREST, Autumn
Color-Blind
Acrylic on Canvas
12 x 48 inches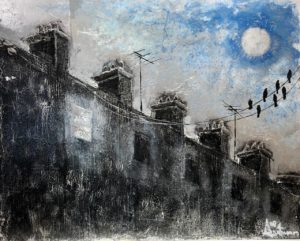 DE FOREST, Autumn
Goodnight Moon
Encaustic on Panel
30 x 38 inches
# # #
Established in 1986, Ocean Galleries is a distinguished fine art gallery and custom-framing retailer with locations in Avalon and Stone Harbor, New Jersey. We represent national and local artists, originals and fine art reproductions; with a mission of personally introducing our clientele to the fine artists and their coveted artwork. Ocean Galleries is considered one of the best custom framing operations in the industry for quality and design, with all framing done in-house. Ocean Galleries also offers a wide variety of hand-crafted items such as glass, jewelry, and furniture. Over the years, the gallery has become nationally known for hosting renowned artists such as Peter Max, Josef Kote, Autumn de Forest, Romero Britto, Charles Fazzino, Graham Nash, Ringo Starr, Hessam, Aldo Luongo, Jane Seymour, Don Hatfield, Howard Behrens, Jiang, Wyland, Viktor Shvaiko, Sam Park, and many others. As a regional and national dealer to individuals and corporate collectors, Ocean Galleries promotes artists with extraordinary abilities and established value, while practicing the highest standards of credibility and integrity in a comfortable and unpretentious atmosphere.  For more information and store hours, visit OceanGalleries.com