This month, Charlie Brown, Snoopy, Lucy, Linus, and the rest of the beloved "Peanuts©" gang will make their big-screen debut in a 3D animated film that is sure to be a hit with fans of the classic comic strip, as well as a new generation.
It was three years ago in November, just before the production of The Peanuts© Movie began, that Blue Sky Studios sought out artist Tom Everhart for his intimate knowledge of the famous cartoon and unique friendship with the legendary creator, Charles M. Schulz, whom he called Sparky. Everhart was brought in to meet with the full creative team and invited to share his knowledge of Schulz's line art and visual construction, alongside Charles Schulz's son, Craig Schulz.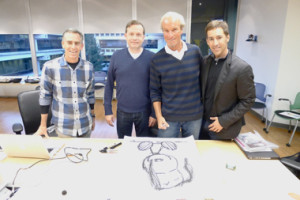 Everhart explains, "It was vitally important to Craig, as well as Fox and me, that this amazingly talented team at Blue Sky studios obtain a deep understanding of Sparky's visual creative thinking well before the film production. Therefore, the 90-minute lecture, that I gave, was basically the exact same lecture that I started giving in the early 1980s that was formulated with Sparky and on his behalf to various audiences in Asia, Europe, the United States, and six times at the Charles M. Schulz museum. This lecture, that I would continue to give for the next 35 years, focused on the thinking involved in establishing his visual articulation, formulation, and the foundation of the architecture of his stunning dynamic black line."

Everhart, as well as Craig Schulz, felt it was extremely important for the Blue Sky studios team to have a clear understanding of the visual creative thinking that drove Charles Schulz as he brought the Peanuts© characters to life over a period of 50 years.
In the new movie set to hit theaters nationwide on November 6, Charlie Brown embarks on an epic and heroic quest, while his best pal, the lovable beagle Snoopy, takes to the skies to pursue his arch-nemesis, the Red Baron. Just in time for the movie's release, Ocean Galleries has an array or Peanuts© original artwork and print available for acquisition, including amazing Snoopy art. For more information, call 609.368.7777.
For more on Tom Everhart and his amazing Peanuts© art, click here